Breaktime is Over
Howdy do? I'm back from my long forge break and have crafted my first Star Warfare 2 map. Today we have Sand, the PvP remix of Banished Battlefield. This map's geometry is different from the Star Warfare 1 maps. It's a more natural feel and even less symmetrical than the other maps. This took about 3 weeks to make. Enjoy the video below!
If you play Halo 5 and would like to download the map for yourself, click this link. Be sure to also to download the Star Warfare game modes as well for the best possible enjoyment. Note that the Star Warfare 2 maps work only with Red and Blue teams, as opposed to Star Warfare 1's Magenta and Cyan teams.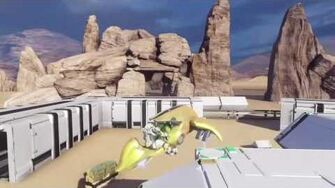 Ad blocker interference detected!
Wikia is a free-to-use site that makes money from advertising. We have a modified experience for viewers using ad blockers

Wikia is not accessible if you've made further modifications. Remove the custom ad blocker rule(s) and the page will load as expected.