Home
Talk

8
206pages on
this wiki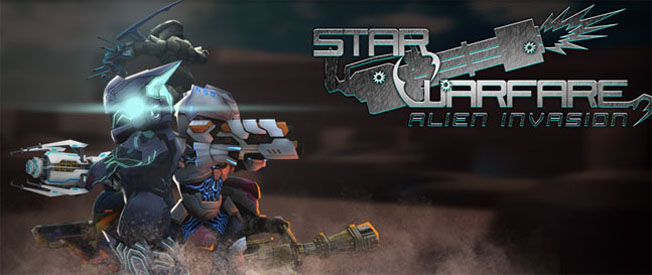 Welcome to the Star Warfare Wiki! This is the site about the iPod/iPhone/iPad/Android game: Star Warfare Alien Invasion!Looking for info? Check out the links below, or hop over to our Page List! Want to add something or join us? Just check out our Community Guidelines, then join the fun!
What We All Are Here For

This wiki is about the game Star Warfare:Alien Invasion, now available on both iOS and Android. All that is needed to know about the bosses, gold drops, mithril, and the gear!
[NEW] PvP Loadout of the week
Our new section's first loadout is very popular among veteran Star Warfare PvP players and it is the Perseus Samouraï.
This loadout is built to be a powerful piece of destruction wielding a Windblade and a Nova 27 laser gun. Any backpack will do but we recommend the "Blademaster" backpack, which will provide you with the incredible benifit of +40% damage with any sword. Here is the full equipement list:
- Full Perseus Armour ( - 30% damage taken from melee weapons ),
- Passer or Windblade ( Swords which both DESTROY at close range ),
- The Nova 27 laser gun ( for longer range capabilities ),
- The Blademaster Backpack ( +40% damage on all swords ).
If you are a newer player and/or don't have enough mithril or gold to get all this equipement, here is a cheaper alternative loadout:
- Full Strike Armour ( provides a good overall damage bonus ),
- Cutter or Passer ( if you choose to use the Cutter, upgrade it to maximum ),
- Any assault riffle ( for long range use ),
- The Blademaster Backpack ( +40% damage on all swords ).
Playstyle:
This loadout is made for hit and run attacks on isolated enemies who are not paying attention to their flanks. Try to spot someone who is alone and get up close to him to "stab him in the back" while he is not paying attention.
(Mobile Users: Drag to scroll!)
This is a message to the current council members. We need the votes for the new council members now…

Read more >
Which map do you like the best?