Welcome to the Photographer's Club, where snap-happy enthusiasts have captured the weird, the funny, and the plain bizarre in the world of Star Warfare:Alien Invasion!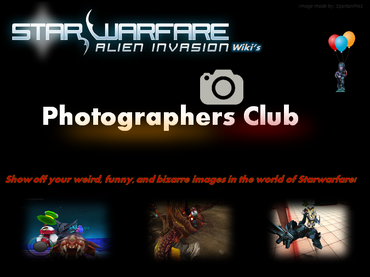 If you're looking for things which closely resemble more edited photos from Star Warfare, please refer to the Art Gallery instead. If you're looking for memes or witticisms, which aren't quite striking photographs in their own, please check out the Caption Corner.
Freyr/Official Releases
Ad blocker interference detected!
Wikia is a free-to-use site that makes money from advertising. We have a modified experience for viewers using ad blockers

Wikia is not accessible if you've made further modifications. Remove the custom ad blocker rule(s) and the page will load as expected.