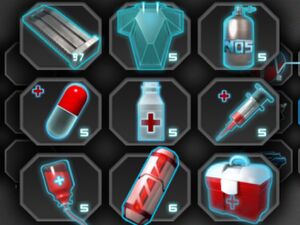 Items can be found and bought in the Store. These are used for short, one-time abilities that aid you in combat. 
Note: To use an item in battle, you must first put it in your backpack in the Customize menu. During a game, tap on the box at the bottom of your screen and tap an item to use it. You may use items in all game modes. (You can also have multiple items in your backpack, like weapons. It just depends if your backpack has enough slots, so choose carefully on your weapons and items!)
Items fall under two categories: Assist Items and Health Items. Assist items are items that either increase your damage output, speed, or reduce the damage attacks do on you. All assist items are temporarily, and last for thirty seconds. Health Items simply add health to your health bar.
Section heading
Health items: Descriptions and Costs
Minor Health: $1000
Restore +800 HP at once!
Small Health: $2500
Restore +1500 HP at once! 
Medium Health: $7000
Restore +3500 HP at once! 
Giant Health: $20000
Restore +8000 HP at once!
Great Health: $40000
Restore +25000 HP at once!
Full Health: 1 mithril
Refill your HP at once!
Aid kit: Descriptions and Costs
Small First-Aid Kit: 1 mithril
Rebirth in battle with 30% HP!
Big First Aid Kit: 2 mithril
Rebirth in battle with full HP!
Assist items: Description and Costs
Booster: $2000
Spd +2. Lasts 30 seconds
Force Shield: $2000
Reduce damage taken by -50%. Lasts 30 seconds
Hyper Clip: $2000
Adds 100% Pow. Lasts 30 seconds